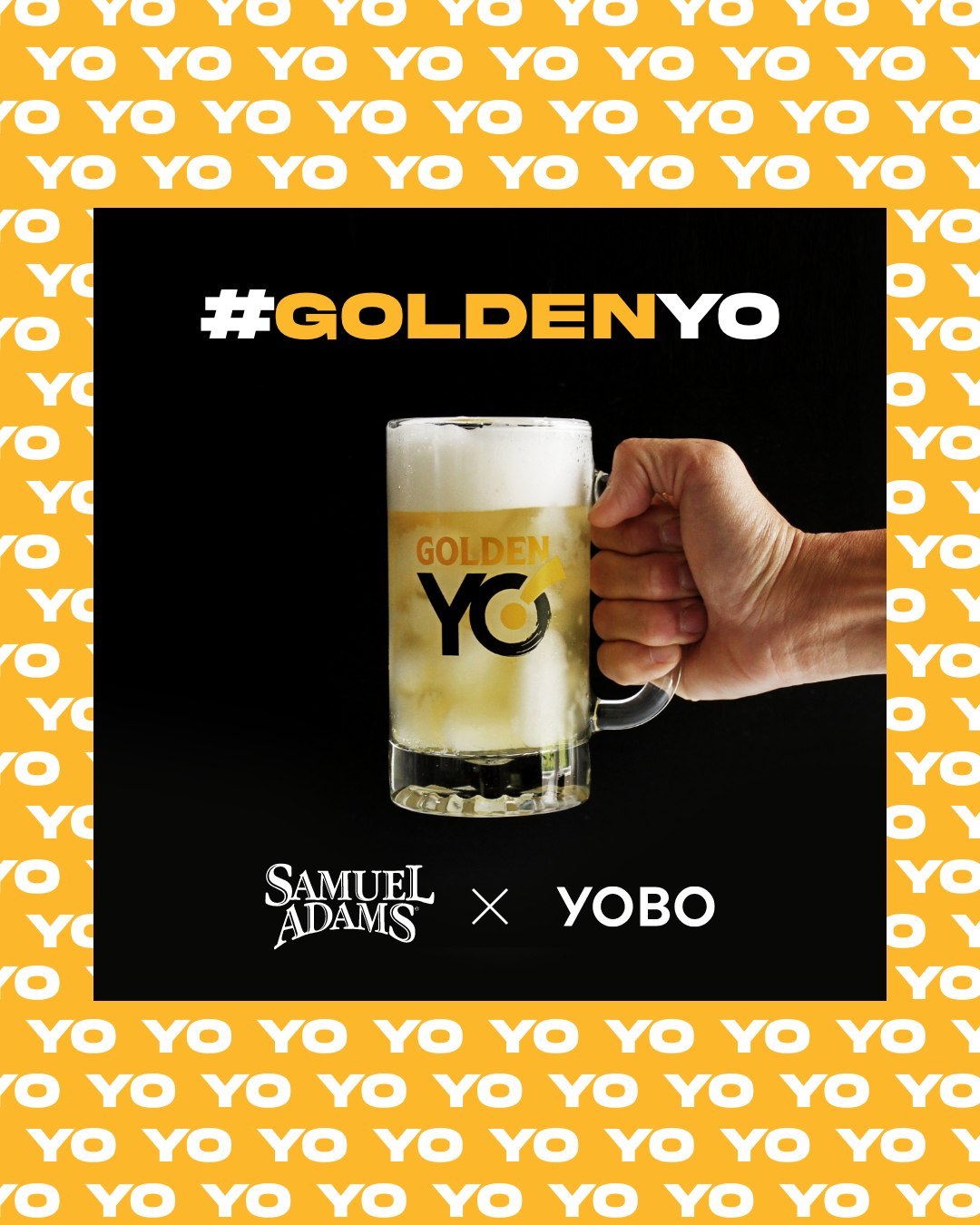 Yobo Drinks, Collaborates With Samuel Adams To Launch Golden Yo!
The Yobo Spirit House, the female-founded leader in the Asian American Spirits industry, is proud to announce the launch of Golden YO!, their new cocktail collaboration with Samuel Adams. Golden YO! is a truly unique Asian-American cocktail that could only come from the combination of two American beverages – Yobo Soju Luxe, the first ultra-premium American Soju, and Samuel Adams Gold Rush, the brand's latest non-alcoholic beer offering.
Golden YO! is a culture-crossing, category-blurring cocktail collaboration. Created to be a refreshing, low-ABV cocktail that's simple to make, easy to drink, and great to share.
Golden YO! is a modern Asian-American reinterpretation of the classic Korean Somaek, a traditional Korean cocktail made by combining soju and maekju (beer). While the origin story for the somaek is often debated, its popularity in Korea is unrivaled, and it endures as one of the favorite ways to consume Korea's national spirit. Golden YO! draws inspiration from Japan's izakaya culture, incorporating one of its most distinctive and invigorating drinking customs: a blend of soju, non-alcoholic beer, and citrus served over ice.
While this co-branded cocktail collaboration with Samuel Adams is Yobo's first, it is a natural next step for the Yobo brand. It plays a clear role in Yobo's mission to bring Soju and Asian-American spirits to a place of cultural prominence in the United States. Through this collaboration, Samuel Adams provides drinkers with an opportunity to experience Gold Rush and enjoy it's range of non-alcoholic options.
We couldn't be more excited to collaborate with such an iconic American brand. The fact that we're bringing together Yobo, the first premium craft soju made in America, with Samuel Adams, the pioneers of craft beer, is a very meaningful moment for me.

John Noe, CEO/Yobo Drinks
Golden YO! debuted at 33 Seaport Hotel in late July, and it is now available at select restaurants and bars in Boston and New York City. And with only three ingredients, don't worry if there isn't a bar near you, Golden YO! is very easy to make at home.
Golden YO! Recipe
• Pour 2 oz. Yobo Soju Luxe into an ice-filled glass or mug
• Pour 1/2 can of Samuel Adams Gold Rush
• Add a squeeze of lemon
Enjoy!
ABOUT YOBO DRINKS
The Yobo Spirit House is on a mission to elevate the Korean American Spirit. Founded in 2015 by Carolyn Kim, lawyer and mother of twins, the Yobo Spirit House portfolio includes Yobo Soju Luxe, named the #1 soju by Tasting Table, Yobo_Kish, an imaginative range of aperitifs created Top Chef winner, Kristen Kish, KTOWN soju, the freshest line of all-natural flavored soju, and Hunni Soju, a line of premium canned soju cocktails. Anchored with a deep respect for heritage and an ambition to drive new innovation, the Yobo Spirit House is changing the face of Asian American spirits one bottle at a time.
ABOUT SAMUEL ADAMS: THE BEER
Samuel Adams is a leading independent, American craft brewer that helped to launch the craft beer revolution. The brewery began in 1984 when Founder and Brewer Jim Koch used a generations-old family recipe to brew beer in his kitchen. Inspired and unafraid to challenge conventional thinking about beer, Jim brought the recipe to life with hopes drinkers would appreciate the complex, full-flavor and started sampling the beer in Boston. He named the flagship brew Samuel Adams Boston Lager in recognition of one of our nation's founding fathers, a revolutionary man of independent and pioneering spirit. Today, Samuel Adams is one of the world's most awarded breweries and remains focused on crafting the highest quality beers through innovation and experimentation in the relentless pursuit of better. Samuel Adams remains dedicated to elevating and growing the American craft beer industry overall, including providing education and support for entrepreneurs and fellow brewers through its philanthropic program, Brewing the American Dream, which helps others pursue their American Dream. For more information, visit www.SamuelAdams.com or follow @SamuelAdamsBeer.