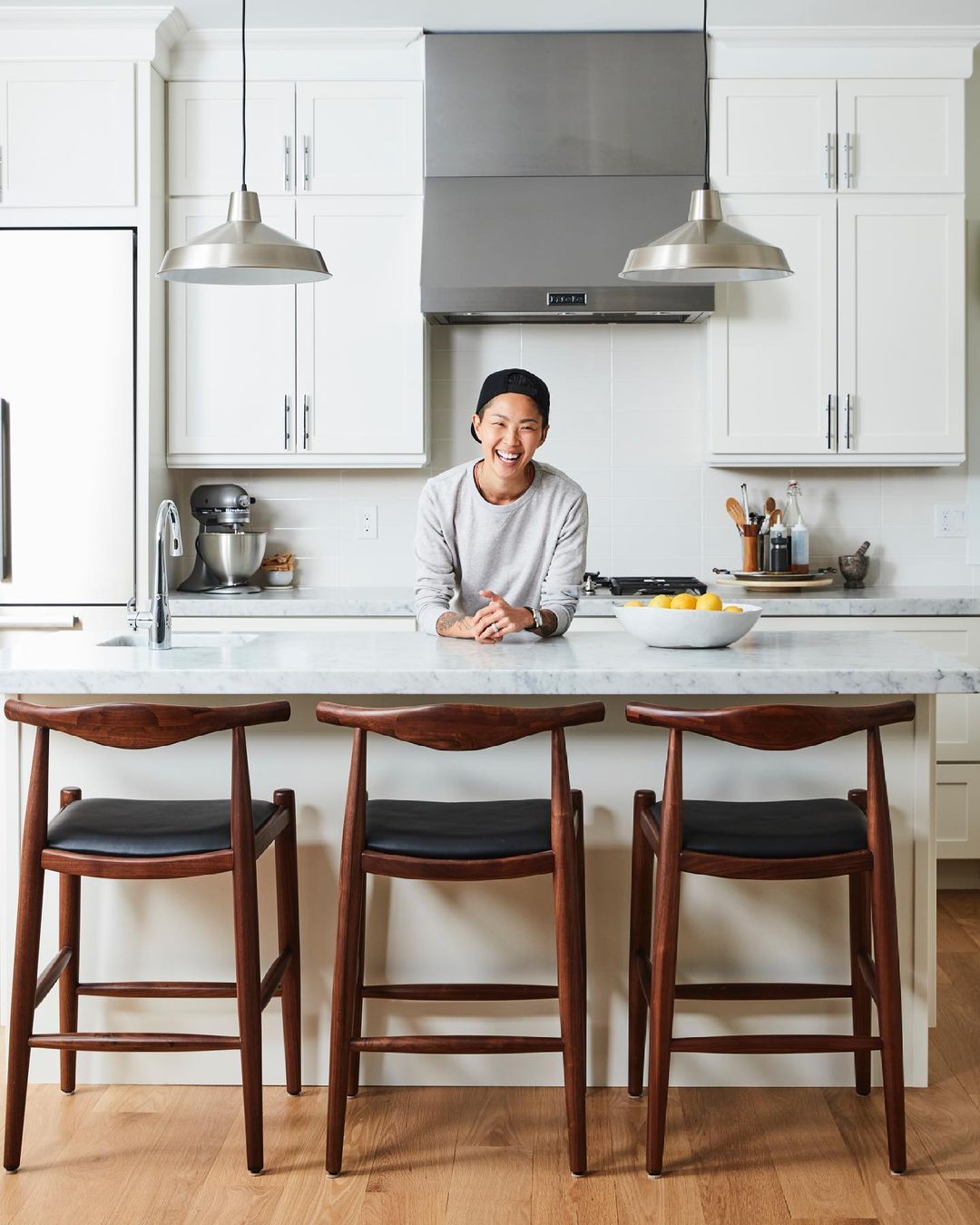 Conversations With Carolyn #1: Kristen Kish
Welcome to conversations with Carolyn, Yobo's new monthly interview series. Here Carolyn will introduce you to creators that inspire us. We hope you enjoy reading the interviews as much as we enjoyed the conversations! and we'd always love to hear about creators that inspire you.  
We couldn't have a better guest for our inaugural conversation, Kristen Kish, the newest member of the Yobo family. Kristen is a Chef, Restaurateur, Entrepreneur, Top Chef Winner, and Host of Tru TV's Fast Foodies.
Carolyn: What was your favorite childhood book?
Kristen: I didn't read a lot growing up (or even now) BUT my mom would read me the Korean Cinderella which holds a special place in time for me.
Carolyn: What is your donut of choice?
Kristen: If it's a yeast donut there is rarely a flavor I'll turn down.
Carolyn: What kind of music did you listen to growing up? Thoughts on BTS?
Kristen: I grew up listening to the obvious high school boyband groups but my dad would always have Van Morrison playing and that is something I listen to often as an adult. I don't listen to BTS but I get the phenomenon!
Carolyn: What makes you laugh these days?
Kristen: My wife single handedly makes me laugh the most and most genuinely. She is un-presumably very funny, which makes her even more funny.
Carolyn: What is your go-to junk food?
Kristen: Gummy candy, chips, chicken fingers, & french fries.
Carolyn: Do you have any unexpected hobbies?
Kristen: I watch youtube videos on woodworking – a hobby I hope to pick up one day but until then watching it will have to do.
Carolyn: What would you be doing if you weren't a chef?
Kristen: I always say I think I became a chef because I watched cooking shows at a young age. Had I got hooked on watching something else perhaps that would have swung the pendulum into another career. I wish I could sing – I definitely cannot…but that would be fun.
Carolyn: Do you enjoy being a public figure?
Kristen: I don't see it like that – I know I am public but I'm just me with a bit more visibility than what I used to be. So, I guess my answer would be yes, because I like being me.
Carolyn: What is your favorite Korean food?
Kristen: fried chicken, jjigae, japchae, kimchi, Korean bbq…I guess I'd have to say ALL of it!
Carolyn: What is your least favorite thing to cook?
Kristen: dinner for just myself!
Carolyn: As the boss of Arlo Grey, are there restaurant culture changes that you championed with your team?
Kristen: All of them! mutual respect, taking care of one another, working hard but also smart, taking care of your personal health and well being, hard conversations, support, discipline through growth… the list will continue to grow and my team will continue to define why I believe Arlo Grey, as of today, has the best kitchen team I've had the pleasure of being part of.
Carolyn: What is Kristen Kish going to be cooking in 10 years?
Kristen: you'll have to ask me in 10 years to get that answer!
Carolyn: I get asked a lot,"Why soju?" It's not an easy question, but I'd love to ask you the same thing.
Kristen: Well….Why not?!
Carolyn: We've had some naysayers over the years saying Yobo is not a real soju and that soju has to be cheap. Have you dealt with criticism for taking a nontraditional risk in your career?
Kristen: There has certainly been judgment and critique but luckily it's not from people that get to have any say in how I live my life or from people that I care to take life advice from, to me it doesn't matter at all then.
Carolyn: Describe the ideal setting for drinking the flavored soju that we're working on together.
Kristen: Wherever it is that YOU want! (responsibly of course!)